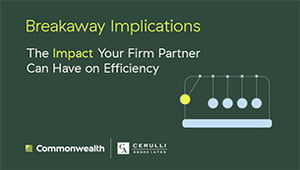 You may think that going independent means having less time for client interactions—after all, you'll have an office to run. Well, that's not true for breakaway advisors who partner with the right firm. This Cerulli Associates SlideShare breaks down how much time breakaway advisors save by partnering with Commonwealth. Partners spend, on average:
58 percent more face-to-face time with clients
28 percent less time on compliance
29 percent less time on trading and rebalancing
17 percent less time on financial planning
Take control of how you spend your day—and your time. Are you ready to make an informed decision about your independence?
Get the numbers. Access the SlideShare to learn more.