About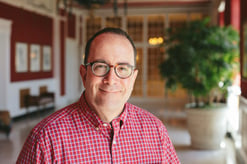 Brad McMillan is chief investment officer and a managing principal at Commonwealth Financial Network®, a Registered Investment Adviser–broker/dealer based in Waltham, Mass., and San Diego, Calif. He is the primary spokesperson for Commonwealth's investment divisions.
Brad earned degrees from Dartmouth College (BA), MIT (MS in real estate development), and Boston College (MS in finance), and he holds the CFA®, CAIA, and MAI professional certifications.
Brad is a frequent commentator on the financial markets, U.S. economic policy, and the global economy for a range of media, including the Wall Street Journal, CNBC, CNN International, Barron's, and Bloomberg News. He is the author of Crash-Test Investing, a must-read primer for Main Street investors seeking to help insulate their portfolios against a market crash. And he writes daily on his blog, The Independent Market Observer.
Brad has worked as a real estate developer, consultant, and lender; as an investment analyst, manager, and consultant; and as a start-up executive. He has started and run several companies and has traveled around the world. In his free time, Brad reads extensively in history, math, and science and plays very bad golf.
E-mail Brad at bmcmillan@commonwealth.com, or tweet him at @BradMcMillanCFA.
A note from Brad
As Commonwealth's chief investment officer, I am the primary author of the posts here. Although I will bring in content from other members of the Commonwealth team where it makes sense—we have a wealth of talent here, and I want to share that—this is my soapbox from which to highlight, on a regular basis, what I think is important in the economy and markets.
This blog is aimed at the general investor, with a special focus on Commonwealth's financial advisors and their clients. On occasion, there may be mathematical or deeply analytical pieces, but the vast majority of content will be based on current economic, market, and political events; publicly available information; and investment strategies that are used or looked at by our advisors and their clients. I would ask you to comment as much as you please; I will respond to as many comments as I can. Your feedback and comments provide inspiration for pieces in the blog itself.